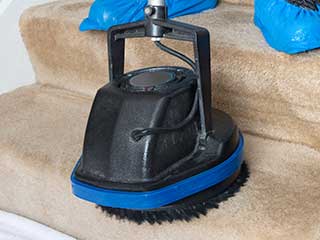 Carpet cleaning is necessary not just to lengthen the life of your rug and keep it looking good, but to make sure that it's free from germs, dirt, bacteria and mold that could cause health problems. Regular rug cleaning can be done by sweeping the rug and floor, as well as vacuuming. This can lessen the amount of dirt and soil that build up on the carpet. Professional carpet cleaning is then recommended at least once a year or more depending on the number of people that usually get in and out of the house.
Methods Used in Rug Cleaning
One of the methods for residential carpet cleaning is bonnet pad cleaning. Carbonated water and cleaning products are often mixed together and sprayed on the surface of the rug. A bonnet that comes with a covering is buffed on the floor. The covering is replaced when it gets dirty. However, this method cannot remove dirt under the fiber of the carpet. Carpet shampooing on the other hand requires the use of foamy chemicals that absorbs dirt, which is then vacuumed. Like the first method, it may still not be able to thoroughly remove dirt.
Dry cleaning uses a dry absorbent solution that is often composed of solvent, detergent, water and absorbent carrier. The compound is then sprinkled over the rug and then vacuumed afterwards. The best method for cleaning the rug is steam cleaning. It thoroughly cleans even stubborn dirt, though it may take longer to dry the carpet compared to the other methods. Hot water is used to loosen dirt on the carpet, which a commercial rug cleaning vacuum immediately removes. This is ideal for carpets with heavy amount of soil and dirt. It also effectively eliminates germs and bacteria.
Call our company if you have any questions regarding these methods or in case you would like to get a quote.