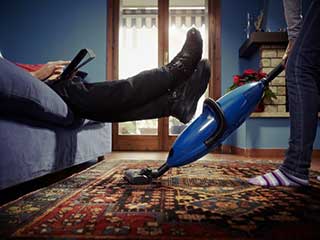 When we talk about carpet cleaning, don't think of grand methods and hard tasks. The whole idea is to keep the fibers free from excessive dust, soil and stains. You cannot really remove dust entirely since it is all around but you can remove dirt and possibly mites. Vacuuming carpets and Persian rugs at least once every week is necessary. If you have kids, visitors occasionally and many high traffic areas, you should vacuum even more often. If you walk with your shoes all over the house all day long, you transfer dirt and along harmful particles from outside to the floors, where you will later step barefoot and where you breathe. It's vital for you to know that dirt on the floor makes the indoor environment unhealthy and such problems will create some more problems related to your health.
Prevent health problems with good carpet maintenance
Rug cleaning is much easier because rugs can be moved outdoors for ventilation and beating. They can be turned so that they can be cleaned on the reverse side, too. As long as you do those things regularly, you won't only avoidhaving health problems but you will also enjoy your wool rugs for longer. When it comes to wall to wall carpets, things are tougher. You cannot lift them in order to check their condition on the reverse side. So, carpet maintenance requires more attention. It must be done with diligence, especially if the fibers are high and hide dirt among them. Since there is obviously furniture over wall to wall carpets, you must make sure every part under furniture is properly cleaned.
If you neglect proper house carpet cleaning, problems will begin. The problem will get worse if there are pets in the house since they would leave dirt as well and would also leave hair. If there are infants in the house, small children or people with allergies to fungi and bacteria, health issues will deteriorate. Mites among dirty fibers will contaminate the atmosphere and might also cause skin irritations. Bacteria and other harmful microorganisms grow when carpets are dirty or stains are not treated promptly. This is one of the main reasons why stain removal must take place as soon as you spill your wine. After all, by cleaning the carpets you will be able to check for other problems like wet corners and spots. Don't forget that water damage will lead to mildew growth and then health problems will just get worse and you might soon need to replace the carpets.