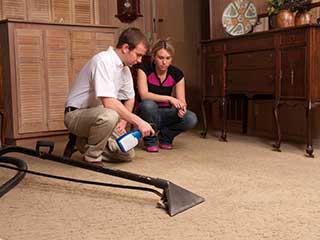 There is too much information about rugs and carpet cleaning in the web but if you take a closer look you'd be surprised by the differences between opinions, tips and suggestion, which implies that the decisions as well as results of the cleaning procedures would also be different. This is not unusual since each rug and each property has different characteristics and, thus, different requirements and they must all be taken into consideration before anything else.
Why do my carpets smell bad?
Many homeowners, who are also very regular with home carpet cleaning and vacuuming, wonder about the bad smell of their carpets. This problem derives from the depths of each carpet, especially if too much dirt, stains, bacteria and pet bodily fluids have concentrated at the bottom parts causing the multiplication of germs and possibly the growth and expansion of mold. Vinegar is the best for odor removal but you can have similar results with cooking soda.
Why do the colors of oriental rugs fade away?
The colors of handmade Persian rugs are natural and, thus, sensitive to natural elements as well as chemicals found not only in detergents but also in many drinks and foods. This is not necessarily related to the rug cleaningfrequency in each household and the damage may have been caused because the rug is placed under a big window, which allows the sun in. The easiest solution is mixing some water with plenty of vinegar and scrubbing gently the fibers.
How to remove the stains effectively?
The secret of effective carpet stain removal is preventing the dirt from penetrating the fibers according to Carpet Cleaning Valencia. The minute you drop some food, you should grab a cloth or sponge trying to absorb the residue. You can use some water with vinegar in a proportion three to one. Make small movements on the spot instead of big circular ones. If the stain is persistent, you would need to repeat this procedure a couple of times.
What do I do with soaked carpets?
Carpet water damage shouldn't worry you very much if the waters are clean but you would still have to use every fan in the house or carry the rugs outside, if they are movable, to let them dry well. You could also use a hair dryer or any other means that would help you dry them faster. If the waters weren't clean, dirty rug cleaning is required first.