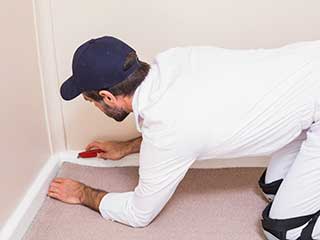 Whether there was something wrong with your washing machine or dishwasher and it ended with a flood or your house has suffered flooding due to a storm, use our professional water damage restoration service to make your home suitable for living once again. Our company has long-term experience in the field. Count completely on our fast reaction and on the completion of the work in the shortest time. Everything necessary is done to restore the condition of the affected contents within the property. Our technicians work dexterously and in a well-organized manner. You can expect to get the desired results fast.
Professional Water Damage Restoration
Time is of the essence when water has penetrated into porous surfaces such as carpets and upholstered furniture. The sooner the work is started the better. That is why you should reach us right away in case of water damage even if it seems small and insignificant. Remember that water causes progressive rotting and increases the risk of mold growth. With us, you will get quick response and timely arrival. At Carpet Cleaning Valencia, we never leave our customers waiting for long in an urgent situation.
We have developed a strict process for restoring the contents of the house in case they have been affected by water. The first step involves inspection of the items and evaluation of the level of damage that they have suffered. This enables the technician to determine the best course of action. The next step of the process is self-explanatory -water removal. Our team members use tools with advanced technology to extract the maximum possible amount of water without causing any kind of damage to the items. The fibers of carpets and upholstery will retain their natural properties. Every inch of the affected surfaces will be covered.
After the water extraction, we move onto drying and dehumidifying flooded areas. Our methods have been tested and proven to work over a long period of time. With proper dehumidifying, the risk of further water damage is practically eliminated.
In order to restore the condition of the items fully and to make the indoor environment as safe as before, we clean them with great care and sanitize them fully. Our upholstery, rug and carpet cleaning service involves the removal of dust, dirt and all other particles getting stuck between the fibers. It includes stain removal as well. Our technicians use the safest and most potent products as well as reliable tools making it possible to reach even the tightest of spaces. This is also true for the sanitizing materials applied to the surfaces. They eliminate any mold and bacterial growth completely and reduce the likelihood of regrowth to the lowest possible minimum.
With our team by your side, you have nothing to worry about in case of a flood!